Have you ever wondered what drives employees to perform their best, go above and beyond and stay engaged in their work? 
In today's fast-paced and competitive business environment, understanding and nurturing employee motivation is essential for organisational success. 
In this article, we will explore what employee motivation analysis entails, its importance, and review different models and theories on employee motivation. 
What is employee motivation?
Employee motivation is the level of commitment, enthusiasm, and creativity an employee brings to their daily work. Employee motivation refers to the internal and external factors that stimulate employees to take action and commit to achieving work-related goals. It involves a combination of individual needs, desires, and aspirations with organizational objectives and rewards. 
Motivated employees are generally more productive, engaged and satisfied with their work, leading to high levels of performance and job retention. They are also more likely to jump at the opportunity to expand their knowledge, push limits and take on new challenges or tasks.
Why is employee motivation and engagement important?
Employee motivation and engagement are crucial to a business that can significantly impact its success and growth. When employees feel motivated, they are more likely to perform at their best, contribute their ideas and remain committed to achieving goals. 
Motivated employees result in: 
Establish a more creative and innovative environment. They are more likely to generate creative ideas and find solutions quicker. They feel empowered to share their thoughts and ideas. 

Feel higher job satisfaction. They find their work meaningful and fulfilling, which contributes to overall happiness and well-being. Satisfied employees are likely to stay longer with a business, reducing turnover rates and other costs.

More likely to participate in team projects and collaborate effectively. In line with this, motivated employees are more productive and likely to perform at their best.

Provide better customer service. As motivated employees are more inspired and committed to the positive results, they will interact with customers more positively. 

Development of a positive organisational culture. A culture that values and supports employees well-being, growth and development will foster a sense of belonging and loyalty for all employees. This in turn, attracts and retains top talent and enhances the organisational reputation as an employer of choice. 
These are some of the many positive outcomes of having motivated employees. It is crucial to invest in employee motivation and engagement as it helps create productive, innovative and positive work environments that benefit both the employees and organisation as a whole. Read more on employee engagement management in this blog.
How to conduct employee motivation?
So we know employee motivation is essential, but what is it specifically that motivates your employees to perform at their best every day?
Many believe that the main motivator is the incentive of money. While it is very true that the majority of the people work for pay, there are still many more factors involved in employee motivation than compensation. It can be difficult to figure out what really drives your employees, what matters most to them and what is just through work obligation. Knowing what really works allows managers to make changes that will strengthen staff and increase employee motivation and productivity. There are a few popular theoretical frameworks which provide different assessments or concepts of employee motivation.
In this article we will review four theories based on academic research: Traditional theories such as Herzberg's Motivation-Hygiene Theory, Maslow's Hierarchy of Needs, and contemporary theories such as Self Determination Theory, and William Kahn's Theory. We will review how organisations can leverage these theories to improve employee motivation analysis in the workplace.
TRADITIONAL THEORIES
How to use Herzberg's Motivation-Hygiene Theory for e
mployee motivation analysis

?

Herzberg's employee motivation theory, or two-factor theory theorised that employee satisfaction has two dimensions which can influence the levels of motivation in a workplace. These two factors are: motivation and hygiene. 

Herzberg's theory explores that intrinsic (motivational) factors could increase satisfaction, and extrinsic (hygiene) factors could decrease motivation if they are not properly managed. (source)

The presence of motivating factors are found in the workplace and encourages employees to work harder, hygiene factors, if not present, will discourage employees from doing their best at work. (source)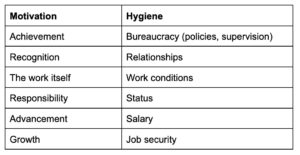 Table retrieved from: Mcleod, S. 2023. Link
Herzberg's study began by interviewing groups of employees from different industries, and asking them to describe in detail situations where they felt exceptionally good or bad about their jobs. In general, respondents indicated intrinsic (motivation) factors to their work when discussing circumstances in which they felt good about their jobs, these factors would be on the lines of achievement, responsibility, growth and so on. Whereas, those describing circumstances in which they felt bad about their jobs highlights extrinsic (hygiene) factors.
Typically or traditionally, it was viewed that the employees who lacked reasons to be satisfied with their jobs must be dissatisfied. However, to Herzberg, the opposite of job satisfaction was not dissatisfaction, but no job satisfaction. The same vice versa. This opens up the discussion, that someone can be happy with certain aspects of their jobs, but unhappy with others. It also includes that both motivators and hygiene factors are highly subjective to change and relative to the employee. 
How can organisations use Herzberg's Motivation-Hygiene Theory to motivate employees? 
Focus on Motivators:

motivators are factors that contribute to intrinsic motivation and job satisfaction. They are related to the nature of the work itself and include factors such as achievement, recognition, growth and challenging and meaningful tasks. Therefore, organisation can and should leverage these by: 

Providing opportunities for employees to take on challenging projects that align with their skills and interests. 

Foster a culture of recognition and appreciation by acknowledging accomplishments. 

Encourage autonomy and avoid micromanagement to allow employees to feel empowered and responsible for their work. 

Support career development and growth by offering mentoring, training and promotion opportunities. 
Address Hygiene Factors: these are external factors that, if not met, can lead to job dissatisfaction but do not directly contribute to motivation. These factors include aspects such as job security, work conditions, compensation and company policies. Organisations should do the following to aid employee motivation: 

Ensure competitive and fair compensation that align with industry standards. 

Provide a safe and comfortable work environment that meets employees physical and psychological needs. If employees

work remotely

, organisations should provide adequate communication tools so employees feel involved in a team environment whenever possible. 

Address work-life balance concerns by offering flexible work arrangements and promoting employee well-being. 

Establish clear and transparent policies that promote fairness and consistency.
By incorporating Herzberg's Motivation-HygieneTheory into practice, organisations can create a work environment that addresses both motivators and hygiene factors, leading to higher levels of employees motivation, job satisfaction and overall performance.
How to use Maslow's Hierarchy of Needs for e
mployee motivation analysis

?

Maslow's Hierarchy of Needs is a motivational theory in psychology which refers to the different levels in which employees' needs must be fulfilled in the workplace in order to achieve employee motivation. (source)

Five levels of needs are included, each of which must be met for a person to feel fulfilled. Maslow's theory is frequently used in the workplace to figure out how to better encourage people to ensure that their demands are addressed. The hierarchy of needs consists of the following: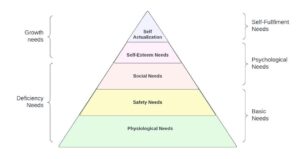 Based on Maslow's Hierarchy of Needs
At the base of the pyramid are the physiological needs, which include the basic necessities for survival such as food, water, shelter and rest. In the context of employee motivation, organisations should ensure that employees have access to fair wages, a safe and comfortable work environment, and other essential needs.
Once physiological needs are met, individuals seek safety and security. This includes job security. If employees are worried about losing their job due to budget cuts or other reasons, it's more challenging to achieve motivation. It also represents that an employee feels safe and protected in the physical environment, so personal property is safe and protected. 
Once physiological and safety needs are fulfilled, individuals wish to build social connections and a sense of belonging in the workplace. Employees desire positive relationships with colleagues to allow for effective teamwork and a supportive environment. If employees don't feel a sense of belonging, being understood and heard, or share the same values, they are likely to feel less engaged or motivated to succeed. 
This involves the desire for recognition, respect and self-worth. Employees want to be acknowledged for their contributions, have their achievements recognised and receive feedback that validates their competence. In addition, to feel as though you are growing and advancing in your career. 
Self-actualisation needs:

This final level represents the highest level of motivation in Maslow's hierarchy. It is the drive to become the best that you can be and achieving your full potential which helps an employee feel motivated to continue. A self-actualized employee feels empowered and trusted, which encourages growth and engagement.
How can organisations use Maslow's Hierarchy of Needs to employee motivation analysis?
In order to use Maslow's Hierarchy of Needs to improve employee motivation, organisations must understand each level and how they can be applied in the workplace. Some of the following are examples of how this can be done. 
Understand individual needs

: recognise that employees have different needs and motivation at various stages. One of these needs includes a steady income to support oneself and pay for shelter, food and other essentials. Included in this is comfortable working conditions and to protect employees from any harm. 

Create a supportive environment:

foster open communication, collaboration, and continuously appreciate and acknowledge employees achievements. Rewards recognition for contributions to the organisation. 

Host team building or interactive work projects:

this offers more opportunities for relationship building in and outside the workplace. Engaging employees in aspects of a work-life balance and helps employees feel like they belong.

Create a purpose-driven culture:

promote a sense of purpose and meaning in the work employees do. Communicate the goals and vision of the organisation and suggest how employees can work towards achieving these. Empower employees to be autonomous and take control over tasks and responsibilities. This provides them avenues for meaningful contributions to the organisation. 
By applying some of these strategies, organisations show they support the overall well-being, personal development and job satisfaction of their employees. This, in turn, leads to increased employee engagement, productivity and organisational success.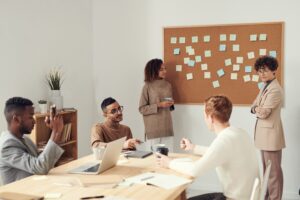 CONTEMPORARY THEORIES
How to use the Self Determination Theory of employee motivation?
The Self Determination Theory (SDT) is a psychological theory of motivation and personality development that explains how individuals are driven to achieve specific goals. Developed in 1985 by Edward Deci and Richard Ryan.
SDT suggests three basic psychological needs, autonomy, competence and relatedness (source).
These components are:
1) Autonomy: this refers to the need for individuals to have a sense of choice and control over their own behaviours and goals. In the workplace this means allowing employees to have a degree of freedom in how they perform their tasks, make decisions and manage work. Empowering employees to have autonomy can enhance their motivation, creativity and overall job satisfaction.
2) Competence: The need for competence involves the desire to feel effective and capable in one's actions. In the workplace, providing employees with opportunities for skills development, training and challenging tasks allows them to experience a sense of accomplishment. When employees feel they have the skills needed for success, they are more likely to be motivated to improve their performance.
3) Relatedness: This refers to the need for social connections and a sense of belonging. In the workplace, fostering positive relationships, effective teamwork, and a supportive work environment can fulfil employees' needs for relatedness. When employees feel part of a team, their motivation and engagement increase.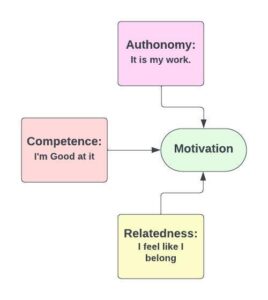 Based on the Deci & Ryan research
The theory is based on the evidence that people are motivated in two separate ways, extrinsically and intrinsically, or in this case, by positive feedback. This theory explores that employees can feel extrinsic motivation for a job, but the likelihood of this decreasing over time is far higher than the latter. Positive feedback boosts self determination, Deci suggests that positive engagement on an employees workplace performance helps people feel more competent (source). This also relates to the three components that make up the self determination theory, autonomy, competence, and relatedness. 
The psychological growth described by SDT requires nurturing and continuous attention. People are actively seeking to grow and improve, this need for growth is what drives behaviour. However, is it possible that with too much extrinsic reward, an employee loses intrinsic motivation as the work will stop being about what they love and simply about obtaining the reward. Managers must be careful with this point. It is also important to note that constructive feedback works brilliantly toward building self-determined behaviours such as competence (source).
The SDT of employee motivation outlines the significance of meeting employees psychological requirements for autonomy, competence, and relatedness. By creating a work environment that supports these needs, organisations can enhance engagement, job satisfaction and well-being.
How to use William Kahn's Theory of Employee Engagement
Another recent and well known theory is William's Kahn's Theory of employee engagement. In today's fast paced environment, work environments are changing everyday, more people are working remotely, hybrid, or substituting working a 9 to 5 for a more flexible job. 
Rather than trying to build on Herzberg's, Ryan & Deci theories, Khan set out to conduct his own research by observing what goes into employee engagement, how it occurs, and what prevents it (source).
Khan made significant contributions to the field of employee engagement when he focused his studies on the concept of "personal engagement". This refers to the emotional and cognitive connection an employee has with their work role. He proposed that employees can experience three distinct dimensions of personal engagement: 
Physical Engagement:

This refers to the level of energy and enthusiasm an employee invests in their work tasks. When employees are physically engaged, they are fully absorbed in their work and experience a sense of vigour and dedication. 

Cognitive Engagement:

The degree to which employees are mentally immersed in their work. It involved being attentive, focused, and fully present in the tasks they perform, leading to a high level of absorption and concentration. 

Emotional Engagement:

This is related to the emotional connection employees have with their work and workplace. It involves feeling a sense of pride, enthusiasm, and fulfilment from the work they do.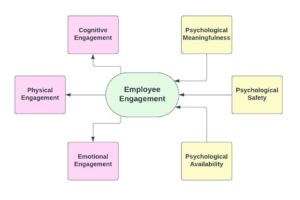 Based on the Kahn's three dimensions of engagement 
Building on this these different conditions in which individuals felt most engaged, Kahn's theory goes further to highlight three psychological conditions under which employees are likely to feel engaged.
Psychological Meaningfulness: This is how well a job's goal or purpose aligns with an individual's ideals and standards. It encompasses factors like job enrichment, work role fit and coworker relations.
Psychological Safety: The ability for individuals to express their true selves at work without fear of negative repercussions to their careers, self-image or status. This is influenced by supervisor relations, co-worker relations and co-worker/office norms.
Psychological Availability: Do individuals have the physical, emotional and cognitive resources to be engaged at work?
Kahn's research emphasised the importance of providing employees with the opportunities to experience personal engagement in their roles. When employees feel physically, cognitively, and emotionally engaged, they are more likely to be motivated, committed, and satisfied with their work. This research has such a powerful impact on the way organisations approach employee engagement. Rather than viewing engagement as a one-dimensional construct solely based on job satisfaction, his multidimensional model highlighted the importance of the emotional and cognitive aspects of engagement. 
This broader understanding influenced how organisations design work environments, job roles, and management practices to foster greater levels of engagement and well-being among employees. 
Some of Kahn's influence can be seen in today's organisational practices. Such as including well-being initiatives (physical engagement), workshops that involve employees in values and strategies of the work (cognitive engagement). And, the development of management programs that emphasise coaching and active listening (emotional engagement) (source).
How can SARA help conduct employee motivation analysis?
When conducting employee motivation analysis, HR consultants often use theoretical frameworks such as mentioned above to design survey questions for their employees. However, to effectively gather and analyse data, a reliable survey analysis tool becomes necessary.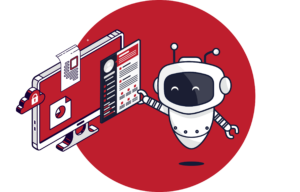 CODIFIC's Survey Analysis and Reporting Automation tool (SARA) addresses these needs by offering the following benefits for HR consultants: 
Ensuring Data Privacy:

SARA employs privacy by design principles to collect survey data safely, ensuring the confidentiality and security of sensitive information. 

Automating Analysis

: The tool enables HR consultants to automate data analysis using either generic methodologies or their preferred approach. 

Generating Custom Reports:

SARA facilitates the generation of automated reports that align with existing templates and branding, streamlining the reporting. 
By using these frameworks through a tool such as SARA, companies can effectively conduct employee motivation analysis and carry out the right organisational steps to improve this. 
Additionally, SARA provides access to surveys based on these theoretical frameworks for individual use. Try out the Utrecht Work Engagement Scale for free to gauge your work engagement level relative to others in your age group and industry. Click here to learn about employee engagement using The Utrecht Work Engagement Scale and how it can impact on individuals and organisations. 
Conclusion
Understanding and nurturing employee motivation analysis is vital for organisational success in today's competitive business landscape. Motivated employees are more productive, engaged, and satisfied, leading to higher performance and improved retention rates. By exploring various models and theories such as these four theories above (Herzberg's Motivation-Hygiene Theory, Maslow's Hierarchy of Needs, the Self-Determination Theory, and William Kahn's Theory of Employee Engagement.) Organisations can gain valuable insights into what drives employees and how to meet their psychological needs. 
As we can see, employee motivation stems from a mixture of the same seeds and by incorporating these practices into organisational strategies, businesses can create a positive work culture that boosts productivity, and attracts and retains top talent.