Do you feel energetic when you start your work in the morning? Ready to fully concentrate on your tasks for the day? Are you proud of the work you complete? All these factors are considered in one of the most widely used scales to access work engagement. In 2002 researchers Schaufeli, Bakker, and Salanova designed the Utrecht Work Engagement Scale (UWES). This psychological assessment tool is designed to measure work engagement of employees. It consists of several statements that respondents rate on a scale to indicate the extent to which they experience certain feelings or attitudes related to their work. It is designed to capture three key dimensions of employee engagement; Vigor, Dedication, and Absorption, which we go into detail further in this blog.
We will be taking a look into the UWES of employee work engagement and how by using this scale, employers can measure and enhance employee engagement.
What is employee engagement?
"Employee engagement describes the level of enthusiasm and dedication a worker feels toward their job." – (source)
Satisfaction isn't enough. Happiness isn't enough. Employees can be satisfied with their job, but leave the second they are offered more pay. Or employees may be happy at work, but this does not directly mean they are engaging in their work to their full ability. (source)
Employee engagement can be characterised by the emotional dedication an employee exhibits towards their organisation, and its objectives. Meaning that engaged employees genuinely invest in their work and share the company's mission. This extends beyond compensation, and instead focuses on actively contributing to the organisation's goal. 
So, how do you get your employees to care? Well, that's a totally different question for a different blog, but for today, we are going to review how you can measure how engaged your employees are at the moment. And how you can use this information to maintain or improve their engagement. 

What are the dimensions of the UWES? 
Each dimension of the UWES represent a unique aspect of an individual's emotional and psychological connection to their work, let's have a look at what each one represent: 
Vigor
Vigor represents the measurement of an employee's level of energy, enthusiasm, and resilience while performing their job. Engaged individuals who score high on Vigor feel a sense of vitality and aliveness in their work. They are often eager to take on challenges, tackle tasks, and maintain a high level of stamina throughout the workday.
Dedication 
This reflects an employee's emotional attachment and commitment to their work and organisation. Employees who score high in dedication have a strong sense of loyalty and enthusiasm for their job. They believe in the value of their work and are committed to the organisation's goals and values. This dedication often leads to a deeper engagement with tasks and a sense of pride in their contributions.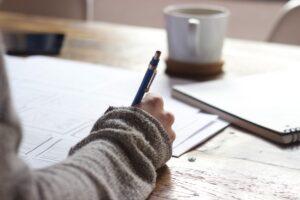 Absorption
Absorption refers to an employee's ability to become fully engrossed and absorbed in their work. Engaged employees who score high in absorption tend to lose track of time and are deeply immersed in their tasks.
Vigor, Dedication, and Absorption are the dimensions that make up the UWES. They collectively provide a comprehensive assessment of an individual's work engagement.
These dimensions help organisations understand the different aspects of employee engagement and can guide efforts to enhance engagement levels in the workplace?
How does the UWES benefit employees? 
The UWES can help employees in severals ways: 
Self-awareness:

employees can gain insight into their own levels of work engagement. This self-awareness allows them to understand their strengths and areas for improvement in terms of enthusiasm, dedication and absorptions in their work. 

Feedback and communication:

the results can provide employees with constructive feedback on their work engagement, which can be valuable for personal and professional development. In addition, the results can facilitate communication between employees and supervisors. It can open up conversations about their needs, concerns, and aspirations, potentially leading to improved work experience.

Career development:

understanding work engagement levels can help employees make informed decisions about their career paths. It may prompt them to seek opportunities that align with their strengths and interests or identify areas where additional training is needed. 

Influence on work environment: a

s employees become more aware of their engagement levels, they can actively contribute to shaping their work environment. They can provide input on what factors enhance or hinder their engagement, helping organisations create more productive workplaces. 

Recognitions and reward:

when employees demonstrate high levels of engagement as measured by the UWES, they may be more likely to receive recognition and reward from their organisation. This recognition can boost motivation and job satisfaction. 

Work-life balance:

work engagement can impact work-life balance. Engaged employees are often better at managing their time and energy, which can result in improved harmony between work and personal life. 
In summary, the UWES benefits employees by providing them with self-awareness, feedback and tools to enhance their work engagement, ultimately leading to greater job satisfaction, well-being and opportunities for personal and professional growth.
How does the UWES benefit managers? 
The UWES also benefits managers in many of the following ways: 
Measuring employee engagement:

using the UWES provides a reliable way to measure the level of engagement among employees. Managers are able to gain insights to how enthusiastic, dedicated and absorbed their workforce is in their work. 

Identifying areas of improvement:

the scale can pinpoint specific areas where employees may be less engaged. For example, if employees score low on the "vigor" dimension, it may indicate a need to address issues related to energy and enthusiasm in the workplace. Similarly, low scores in other dimensions can highlight areas that require attention and improvement. 

Tailor strategies: f

rom the information gathered by the results, managers can identify areas of improvement, and then build strategies which specifically target an area of employee engagement. 

Productivity and retention:

as mentioned above, engaged employees are more likely to stay with their organisations and are often more productive. By using the UWES, managers can design initiatives that help contribute to engagement and motivate their workforce. High engagement levels can lead to reduced turnover and improved performance. 

Employee well-being: e

mployee engagement is closely linked to overall well-being. Engaged employees tend to experience lower levels of stress and higher job satisfaction. Employers can use the scale to monitor and improve well-being within the workplace, which can have a positive effect on employees mental health. 

Benchmarking and tracking progress: t

he UWES can be used to establish a baseline of engagement levels within an organisation and can be tracked over time. This allows managers to evaluate the effectiveness of initiatives and make necessary adjustments based on feedback from employees. 
Overall, the UWES provides managers with valuable insights into their employees' engagement levels and can serve as a foundation for developing strategies to create a more engaged, satisfied, and productive workforce. By prioritising employee engagement, organisations can improve retention, performance, and the overall company culture and environment.

How to improve employee engagement using the UWES?
Improving Vigor, Dedication, and Absorption in the workplace involves creating an environment that fosters what each dimension entails. The following are a few recommended strategies to improve engagement. 
Vigor

Promote work-life balance:

by encouraging employees to maintain a healthy work-life balance, you aid the prevention of burnout, fatigue and (quite frankly) bad attitude. Implementing policies that support flexible working hours, offer remote work options and providing wellness programs can all help employee engagement. 

Professional development

: invest in employee training and development. Opportunities for skill enhancement and career growth can motivate employees. 

Recognition:

recognise employees for their efforts and accomplishments, acknowledging their hard work can boost enthusiasm and energy levels. 

Meaningful tasks:

make sure the tasks you are assigning to your employees are aligned with their strengths and interests. When employees are engaged with work that resonates with them, they are more likely to perform higher. 
Dedication

Clear purpose and vision:

communicate clear organisational mission and vision to employees, both when hiring employees and throughout tasks and everyday work life. When employees understand the significance of their work within the larger context, they are more likely to feel dedicated to these goals. 

Autonomy:

give employees a degree of autonomy and decision-making power in their roles. This will help foster ownership and commitment. 

Leadership:

effective leadership plays a crucial role in dedication, it encourages and inspires employees. 

Feedback:

provide feedback on performance and help your employees learn and improve on their work. 
Absorption

Task variety:

design roles that offer a variety of tasks and challenges. Employees are more likely to become absorbed in their work when it is intellectually stimulating and diverse. 

Minimise distraction & encourage flow:

create a focused work environment by avoiding excessive meetings or interruptions. Encourage flow by finding a state that matches skills with level of challenge of tasks, this helps sense of absorption.

Regular breaks: promote regular breaks to prevent burnout and refresh employees' concentration levels. According to this article, studies have shown that the 90-20 rule helps greater levels of productivity. This 90-20 rule goes by blocking up to 90 minutes of full task concentration and then taking a 20-minute break at the end.
It is important to note that improving these dimensions is an ongoing process and may require a combination of organisational policies, leadership practices and individual efforts to notice long-term changes. Regular assessments, feedback, and continuous improvement efforts help create a workplace where employees are more likely to exhibit high levels of vigor, dedication, and absorptions, leading to greater work engagement.
The Utrecht Work Engagement Scale
Previously mentioned, the UWES was developed by researchers Schaufeli, Bakker, and Salanova in 2002 to serve as a psychological assessment tool to measure work engagement of employees.
As employees, this survey empowers us to better understand ourselves, fostering self-awareness and offering the tools to enhance our work engagement. As managers, it provides valuable insights into creating a workplace that values and nurtures employee well-being, performance, and loyalty. 
So, whether you are either of these, or none of these, this survey can give us insights to where we are and where we want to be in our professional lives. Take the UWES here.
Additionally, we also offer three other surveys which measure the Self Determination Theory, and William Kahn's work engagement theory which include both psychological conditions and physical, cognitive and emotional engagement at work. 
The first survey measures the extent to which you have the psychological conditions for personal engagement at work. The second survey measures your levels of physical, cognitive and emotional engagement, using the job engagement scale.
What tool did we use for these surveys?
These surveys run on our Survey Analysis and Report Automation system, SARA in short. SARA allows HR consultants to either use standard surveys such as these or create their own surveys and methodologies to serve their clients. Reach out to us if you want to find out more about all the possibilities with SARA.